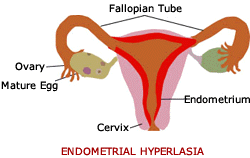 WHAT IS ENDOMETRIAL HYPERPLASIA?
An overgrowth of the endometrium (inner lining of the uterus). This overgrowth can be localized or diffuse. This is not cancerous.
MOSTLY AFFECTS
Women over age 35.
SIGNS & SYMPTOMS
CAUSES
Excessive estrogen, a female hormone. This is caused internally or from the use of hormone-containing medications. Endometrial hyperplasia rarely occurs in women who have a normal menstrual cycle.
RISK INCREASES WITH
Use of oral contraceptives or estrogen replacement therapy after menopause.
HOW TO PREVENT
No specific preventive measures.
DIAGNOSTIC MEASURES
POSSIBLE COMPLICATIONS
PROBABLE OUTCOME
Often curable with D & C (Dilatation and curettage) or hysterectomy. If a woman chooses not to have surgery, hormone therapy usually controls symptoms.
TREATMENT
GENERAL MEASURES
MEDICATION
ACTIVITY
No restrictions unless you have surgery. Then resume your activities gradually.
Ask your doctor about resuming sexual relations following surgery or D & C. Don't hesitate to discuss this--it is an important part of your life.
DIET
No special diet.
CONTACT YOUR DOCTOR IMMEDIATELY, IF