ANATOMY
The spinal column is made up of 25 bones called vertebrae and one sacrum. Each has a number of bony projections to which are attached ligaments and muscles. Between the vertebrae are firm discs that serve as cushion or shock absorbers. Nerves that carry painful impulses from periphery to the brain, exit through tiny opening in between the vertebrae.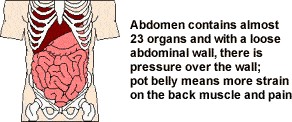 COMMON CAUSES OF BACKACHE
Of muscles - muscle strain due to overwork (Lumbago), defective posture or psychosomatic (emotional disturbance) disease.
Of intervertebral disc - slipped disc: most of the time minor activity like sneezing in bent position, trying to get hold of slippery soap causes it.
Excessive forward curvature of the spine - defective posture, protruding tummy including pregnancy, wearing high heels.
Of joints - sudden jerks and twists.
Spondylosis - a form of arthritis occurring as a result of wear and tear on the spine as one grows older.